SLA Consultants Gurgaon – About US – Training & Placements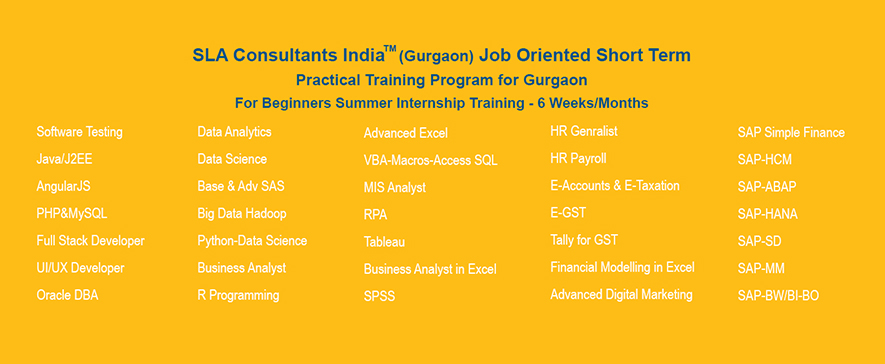 SLA (Structured-Learning-Assistance) Consultants Gurgaon/Gurugram, trusted and progressively growing brand name with an experience of 10 years, now famous as a Professional IT & NON-IT Training Institute. As a dedicated education partner, we focus on offering strategic training paths for the certification skills required to get the best placements in the companies. We produce a consistently superior level of training to upgrade your skills as fresher or professional in different fields of interest like Accounts, Taxation, GST, Business Analytics, Data Science, Human Resource-HR, Data Analytics, MIS & Advanced Excel, Software Testing, Advanced PHP, Digital Marketing, SAP, Tally and a lot more. Our objective of your success is clearly reflected in our highly experienced staff, enthusiastic trainers, and advanced classroom environment and comfortable learning experience. Our professional instructors deliver practical & project-based training and placement cell to help you achieve the best in the future.
Providing you a certified education is your core business! SLA Consultants Gurgaon aims to offer you the best learning atmosphere with the best customer service, to ensure that you will get everything you need to upgrade your skills. SLA Consultants Gurgaon is counted amongst the Top IT & NON-IT Training Institute offering job oriented courses and skill development training. You can easily join our training institute for Best IT & Non-IT Certification Courses in Gurgaon/Gurugram to get the placement at the top MNCs & Non-MNCs industries.
Vision and Mission
We, at SLA Consultants Gurgaon, aim to empower our learners with excellent knowledge, skillfulness, and professionalism in their field. Your satisfaction is our foremost mission. Our sincere professionals apply excellence and candor in their efforts to provide the satisfaction every learner seeks. We try our best to offer individual focus to each of our learners to encourage them to boost their skills, knowledge, and attitude.
Our training institute is inspired by Vision, powered by Mission and sustained by Values. We want our learners not to be average, but to be awesome! We a team built of things which matter to you!