Robotic Process Automation(RPA)-OpenSpan Training Course in Gurgaon/Gurugram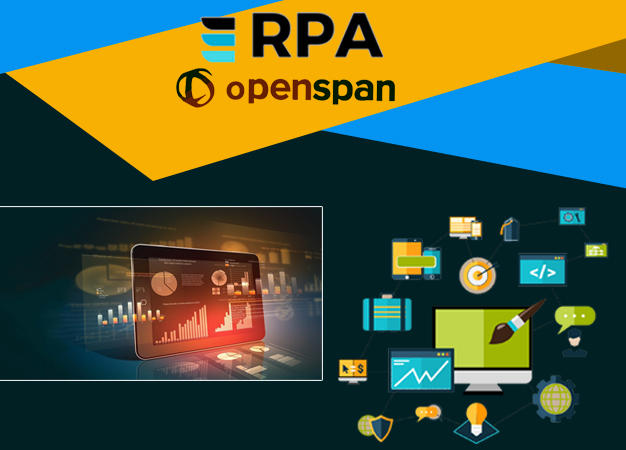 RPA OpenSpan Course in Gurgaon
RPA-OpenSpan Training Cours in Gurgaon/Gurugram
OpenSpan is known as the desktop automation and analytics tool that allows the business organizations to improve their productivity of back office and front office. It helps in improving the customer relations and deliver better business operations with cost savings which enhances the customer experience. OpenSpan is considered as one of the most significant robotic automation tool that develops application integration and automation projects. SLA Consultants Gurgaon offers Best RPA OpenSpan Training in Gurgaon/Gurugram to aspiring candidates who want to learn streamlining and automating repetitive tasks that would eliminate the human elements from the business operations. It enhances the efficiency and productivity by minimizing the risks of errors. By learning RPA OpenSpan, you will be able to automate many repetitive tasks such as data processing and get the tasks done at an unimaginable speed to boost the revenue of the company and stay ahead in the competitive market. Robotic OpenSpan Training designed by SLA Consultants Gurgaon gives in-depth and outstanding knowledge to the participants and leverage skills in desktop automation technology that is highly important in driving revenue, customer experience and operational efficiency. Therefore, if you wants to follow a career in the Robotic Process Automation and looking to master one of the best RPA tool, then acquiring skills in RPA OpenSpan can certainly be the best possible decision of your career. Thus, attend our quality and reliable RPA OpenSpan Training from SLA Consultants Gurgaon in Gurgaon/Gurugram and give your career the most desirable start.
OpenSpan RPA tool is a leading automation tool that focuses on business enhancement. At SLA Consultants Gurgaon, the RPA OpenSpan Training Course will help the students learn innovative methodologies of automation solutions, business processes and optimization of increasing revenue. During the RPA-OpenSpan Training, the participants will learn developing OpenSpan solution and project, working with interaction framework, deploying OpenSpan solutions, recommending practices for solution development, debugging OpenSpan projects and interrogating a web application. Some of the major objectives of the training include windows integration, agile desktop and deployment, diagnostics and debugging, web integration and much more. The RPA-OpenSpan Certification Course will help you understand the skills in efficient business operations, manage RPA solutions for ensuring long-lasting results and insights into using RPA across the company. Anyone can attend the RPA-OpenSpan Training without having a prior programming knowledge. All you need to have is a graduate degree in IT field and you are good to go.
After completing the RPA-OpenSpan Training, the learners will easily assess the key considerations during designing RPA solutions, work efficiently with OpenSpan, perform image and text automation, perform data manipulation using arguments and variables and debug and handle exceptions in workflow automation. These will be taught by industry and corporate experts with years of experience in the field who use job oriented and updated RPA-OpenSpan course material and real world projects and assignments. Other major characteristics of the RPA OpenSpan Training Course include workshops and handouts, Real-time RPA-OpenSpan Practical Training, wide admin support, flexible class timings and 100% Job Placement Assistance.
RPA is the future of the technological advancement in the business industry where companies can enjoy remarkable benefits such as low costs, high returns and productivity, less risks and better performance. RPA OpenSpan tends to offer these benefits at an extended level with better application integration, business enhancement support and better customer experience as well. Thus, enterprises are in deep requirement for OpenSpan developers who can automate business operations easily. Therefore, acquiring comprehension and expertise in RPA OpenSpan could help you expand your career to a great level. Other benefits of learning RPA OpenSpan include:
There is an exceeding demand for RPA Professionals with outstanding automation skills in the current and future business market, which you can take advantage of and secure a promising career in the field.
Pursuing a career in OpenSpan would also help you gain more knowledge and expertise in Robotic Process Automation, allowing you to achieve growth and development in the career.
You will be one of the most respected and recognized personnel in your company due to your practical knowledge in automation and significance of your role.
You will also earn a higher salary than other workers in the IT field. The average salary for an RPA professional in India is Rs.367,883 per annum.
There is a huge gap between the number of RPA professionals required in the current market and the jobs available for it. By learning RPA OpenSpan skills, you can enjoy better job security along with high payment.
After knowing all these benefits, if you are willing to learn RPA OpenSpan and master the tool in a quick span of time, then join RPA OpenSpan Training Course in Gurgaon/Gurugram from SLA Consultants Gurgaon at once. To know more about the RPA-OpenSpan course or out institute, please visit our centre or submit your quotation.
Course Duration: 25 – 30 HRS with Highly Skilled Corporate Trainers-RPA-OpenSpan Training Course for Modules-Weekdays/Weekend
SLA Consultants Gurgaon – RPA – OpenSpan Certification Training Delivery Method:
Web / Desktop Base.
Instructor-Led Classroom Sessions.
Presentations/Demonstration/Practicals of concepts.
Handouts/Assignments/Real-time Exposure to work on Clients.
Robotic Process Automation – OpenSpan Programme Modules
RPA – OpenSpan Training Modules
Find the course details below.
Duration of Module
RPA-OpenSpan Course Module
RPA-OpenSpan Course Duration
RPA OpenSpan
25 – 30 (Hours)
Batch Timings
| RPA-OpenSpan Schedule | RPA-OpenSpan Timing |
| --- | --- |
| Monday to Friday | 8:00 AM – 10:00 AM |
| Monday to Friday | 10:00 AM – 12:00 PM |
| Monday to Friday | 2:00 PM – 4:00 PM |
| Monday to Friday | 4:00 PM – 6:00 PM |
| Saturday/Sunday | 8:00 | 12:00 | 2:00 | 4:00 |
| Sunday | 8:00 AM – 10:00 AM |
| Sunday | 10:00 AM – 12:00 PM |
| Sunday | 2:00 PM – 4:00 PM |
| Sunday | 4:00 PM – 6:00 PM |