Microsoft Certified System Engineer MCSE Training in Gurgaon/Gurugram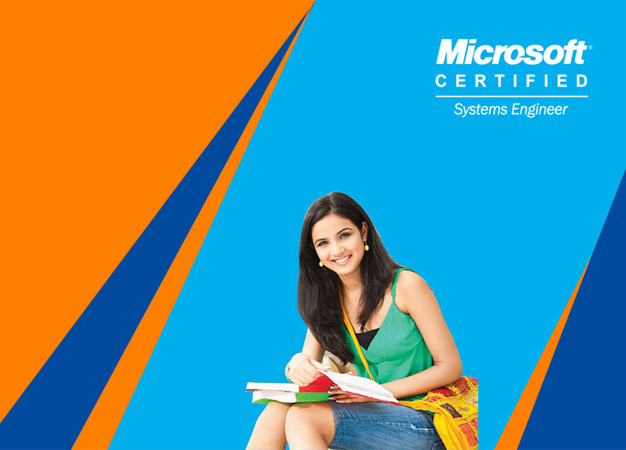 MCSE
Certification
Training
Course
MCSE Training Course in Gurgaon
The MCSE or Microsoft Certified Solution Expert is a certification offered by Microsoft to system engineers who complete a series of exams successfully by attaining knowledge in various Microsoft products. MCSE Certification is considered most popular information Technology certification which makes the individual an expert in utilizing all the Microsoft products and perform various functionalities including designing, administering and implementing infrastructure on Microsoft Windows Server. If anyone wants to become an MCSE professional, then he or she should attend MCSE Certification Training in Gurgaon/Gurugram provided by SLA Consultants Gurgaon which offers extensive knowledge in Microsoft Windows operating system, Microsoft servers, related desktop systems, back office server and networking. The MCSE Training will help them gain specialized knowledge and expertise in order to pursue the promising career in the IT industry. Today, employees are looking for candidates with sound knowledge of Microsoft products and technologies and with MCSE Certification, the candidates will enjoy recognition in the business industry and kick start their career. The MCSE Certification Program in Gurgaon/Gurugram is curated by industry experts keeping in mind the current business requirements and industry standards. The MCSE Certification Training is offered by some of the best corporate trainers with huge experience in the field using the most latest and placement oriented course curriculum. The MCSE Certification Course is specifically targeted towards college graduates and working professionals who want to lead a successful career in the IT field. Therefore, the MCSE Training is highly advantages for people who lack expertise in any field which is restricting them to get a good job.
MCSE engineer are in demand professional who worked as system engineers or administrators due to their knowledge and expertise in Windows Server and windows operating system. The Microsoft System Certified Engineer Training in Gurgaon/Gurugram provided by SLA Consultants Gurgaon will provide doing career opportunities by acquiring hands on experience through real-time practical training under expert supervision. The MCSE Training will help the participants get knowledge in installing and configuring server, administering Windows Server, configuring network services and access, configuring and managing active directory, implementation of business continuity and disaster recovery, designing and implementing network infrastructure services and active directory infrastructure, maintaining and managing server infrastructure, planning and implementing enterprise and server virtualisation infrastructure along with much more. The MCSE Certification Course is highly beneficial for SQL server administrator, IT Consultants, database backup administrator, IT Architects and administrators.
At SLA Consultants Gurgaon, the MCSE Certification covers all the relevant and important topics such as deploying and managing Windows server 2012, implementing ipv4 and dynamic host configuration protocol, implementing domain name system, managing Cisco devices theory, implementing local storage, file and print services, securing Windows server with group policy object, implementing server virtualisation with Hyper-V, etc.
We have modern lab equipments with latest devices which facilitates the students in getting practical experience which also helps in boosting the career of working professionals. All the participants are trained using real life projects and assignments that gives them practical experience of maintaining Windows Server which make them job ready professional. Our trainers are well respected and certified professionals with over 10 years of experience in Microsoft field who are efficient in guiding the students to accomplish their career goals. There is no eligibility criteria to join the MCSE Training except having a graduation degree in IT field. After completion of the MCSE Live Project Training, the participants are awarded with valid certification with 100% Job Placement Assistance to help them gain competitive edge over other candidates during the interview.
Getting Certification Training in Microsoft Certified Software Engineer MCSE will certainly be a large step towards success. It offers various advantages to the individual apart from gaining relevant skills and knowledge as per the industry requirements. Some of the reasons why you should also learn MCSE are as below:
It is a globally accepted and recognized certification which will not only help you acquire from some job in India but in overseas as well.
A large number of business organizations constantly seek professional employees who have expertise in maintaining and managing Windows server and network.
Microsoft certified professional is highly preferred for the job profile over other candidates in networking with no certification. Having MCSE certification attached in the resume puts more weight on the individual's profile.
One can also make great money in the technology field as Microsoft certified solution engineers are well. Due to their comprehension and experience.
You can also enjoy job security in this competitive World after getting Microsoft certification and will also help you attain job growth after few years of experience.
Therefore, if you have the desire to pursue a successful career in the networking field, then getting MCSE Certification from SLA Consultants Gurgaon should be your first step. In order to gain more information about the course or our Microsoft Certified System Engineer Training Institute, please visit our office in Gurgaon.
Course Duration:
35 – 40 HRS with Highly Skilled Corporate Trainers
MCSE Training Course) for 13 Modules – Weekdays / Weekend
SLA Consultants Gurgaon – MCSE Certification Training Delivery Method:
Web / Desktop Base.
Instructor-Led Classroom Sessions.
Presentations/Demonstration/Practicals of concepts.
Handouts/Assignments/Real-time Exposure to work on Clients.
MCSE Programme Modules
MCSE Module
Find the MCSE course details below.
Duration of Module
MCSE Course Module
MCSE Course Duration
MCSE
35-40 (Hours)
Batch Timings
| MCSE Course Schedule | MCSE Course Timing |
| --- | --- |
| Monday to Friday | 8:00 AM – 10:00 AM |
| Monday to Friday | 10:00 AM – 12:00 PM |
| Monday to Friday | 2:00 PM – 4:00 PM |
| Monday to Friday | 4:00 PM – 6:00 PM |
| Saturday/Sunday | 8:00 | 12:00 | 2:00 | 4:00 |
| Sunday | 8:00 AM – 10:00 AM |
| Sunday | 10:00 AM – 12:00 PM |
| Sunday | 2:00 PM – 4:00 PM |
| Sunday | 4:00 PM – 6:00 PM |
Download MCSE Course Brochure