✅Microsoft Advanced Excel Training in Gurgaon | Free Any One Overview-Python/R/Tableau Course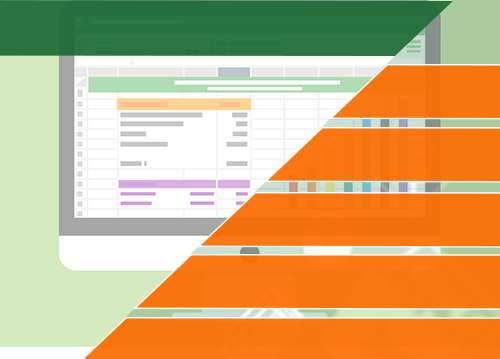 Basic Excel & Advanced Excel Training Course
in Gurgaon/Gurugram
1. Complete Tedious Task More
Efficiently
2. Easily Create & Improve Speadsheet
3. Extend Your Table Creating Abilities
4. Learn Macros & Shortcut that can ultimately
save lost days every years
5. Learn How to secure documents with complex password
6. Create details workshet, graphs, chart & invoices
7. Three-Dimensional Chart created in a few steps
8. Accurate table created with less efforts
9. Communicate Ideas with your colleagues easily
10. Find & correct calculation mistakes
Advanced Excel Training in Gurgaon
Advanced Excel Training Course With Free Python/Tableau
SLA Consultants Gurgaon has designed Advanced MS Excel Course for professional or fresher who wants to learn and become expert the skills of MS Advanced Excel to persuade a best career in Data Management, MIS, Business Analysis and Data Analysis. Microsoft Advanced Excel Training Course is targeted towards candidates who are fresher or working professionals who wants to purse their career in Excel Data Analysis. Excel and Advanced Excel Training will provide extensive and industry standard knowledge to the learner's which will enable them to become a professional excel and MIS expert with adequate expertise in the field, giving them to grab any MIS, Data Analysis, Business Analyst, Operation Manager, Process Analyst, Back-Office Manager job opportunity. Excel Training make you learn how to develop appropriate methodologies for collecting, analyzing, and presenting of data. Create and publish reports on the reporting interface as per business specifications. Any ad-hoc reporting requests being received from business.Prepare strategic trend dashboards to measure KPI, Increase leadership focus on key required Performance Indicators Analyze underlying data for potential discrepancies, investigate errors, and perform data cleanup Thus, if you are eager to gain relevant excel knowledge in Microsoft Excel and Excel complex functions, then join Basic Excel and Advanced Excel Course in Gurgaon/Gurugram from SLA Consultants Gurgaon.
Basic Excel and Advanced Exce is a spreadsheet tool that is used to store, retrieve and manage data, compute and calculate information, represent data in a graphical and visual form such as charts, tables, etc. MS Advanced Excel is also used for various business operations such as operation, Accounting and Finance, Banking ,workforce, process management, etc. Basic Excel and Advanced Excel Course is importance in any Business Organization as it allows them to collect and utilize the information related to customers and market condition, which enhances their productivity, revenue and sales or back-office related work. Hence, the demand for professional and skilled MIS or Data Analyst are high in the current business industry and if you want to take the advantage of this trend, then you need to attend our best quality and prominent Basic Excel and Advanced Excel Training Course. The Basic Excel and Advanced Excel Course is dedicated to meet all the business requirements related to Data,such as computation, data management, data manipulation, graphical representation, etc. Basic Excel and Advanced Excel Course covers various excel topics in the field such as mathematical functions, data and time functions, logical functions, sorting and filtering, pivot charts and tables, text functions and data validation, statistical functions, lookup and reference function, conditional formatting, multidimensional analysis etc.
The Advanced Excel course in Gurgaon/Gurugram are conducted on both weekdays and weekends and taught by industry experienced corporate Microsoft Excel trainers using the updated and job oriented Basic Excel and Advanced Excel Training Course material. Anyone with Basic Excel knowledge and a graduate degree can pursue the Excel Training. Some excellent features of the Advanced Excel Course in Gurgaon include real time practical Basic Excel and Advanced Excel training sessions, hands on expertise, multiple projects and assignments, workshops and handouts, wide admin support, interview preparation and 100% Job Placement Assistance. At the end of the Basic Excel and Advanced Excel Training, the participants will be able to perform all the MIS and Data Analysis related work with great ease and comfort and a valid Excel certification will be offered to them, which would assist them in acquiring a decent job opportunity.
The need for MS Excel cannot be ignored at any business organization. Both small and large scale enterprises somewhere needs to manage their information in an efficient manner, and for that, MS Excel is considered as the most popular and widely utilized tool. Therefore, companies seek expert MIS or Back Office Executive with good knowledge of its functions who can help them record and represent their information in an easier manner. However, having Advanced Excel Course would not only make them a highly desirable candidate but also a most valuable one too as the person would be able to perform complex business operations reporting and analysis such as sorting and filtering of data, graphical representation of data, automating Excel reporting and analysis etc. Thus, it becomes extremely necessary for aspiring excel professional to master the Basic Excel and Advanced Excel skill. Some other reason why you should join Advanced Excel Course are as follows:
Basic Excel and Advanced Excel Course helps to generate reports and analysis for many MNC firms and large scale enterprises for their business.
Having Basic Excel and Advanced Excel Certification Course would give the candidate some good opportunities with high paying job. The annual salary of an MIS and Data Analyst in Excel in India get good hike as per the experience.
Basic Excel and Advanced Excel Course is highly beneficial for many individuals in various working fields such as finance, engineering, business management, medical field, banking, etc.
Basic Excel and Advanced Excel Course could also help aspiring business owners to predict the market conditions and save a lot of money in data management.
Learning Basic Excel and Advanced Excel can help the candidate to pursue many other job profiles such as MIS Executives, accountant, project manager, data entry operator, MIS personals and much more.
These are some of the benefits you can enjoy by acquiring skills in Basic Excel and Advanced Excel. If you have any doubts regarding the Basic Excel and Advanced Excel Course or our Best Excel Training Institute, please visit our center in Gurgaon/Gurugram.
Microsoft Basic Excel and Advanced Excel Training in Gurgaon/Gurugram is a general purpose electronic spreadsheet to use to organize, calculate, and analyze data. The task you can complete with Excel ranges from preparing a simple family budget, preparing a purchase order, create an elaborate graph/chart, or managing a complex accounting ledger for a medium size business.
Basic Excel and Advanced Excel Course Duration: 20-30 HRS with Highly Skilled Corporate Excel Trainers
(Microsoft Basic Excel and Advanced Excel Training) for below Modules – Weekdays / Weekend
SLA Consultants Gurgaon – Microsoft Basic Excel and Advanced Excel Training Delivery Method:
Web / Desktop Base.
Instructor-Led Classroom Sessions.
Presentations/Demonstration/Practicals of concepts.
Handouts/Assignments/Real-time Exposure to work on Clients.
Advanced Excel Training Course Programme Modules
Free – Any One (Python/R Programming /Tableau /Power BI)
Find the Basic Excel and Advanced Excel course details below.
Duration of Module
| Advanced Excel Course | Course Duration |
| --- | --- |
| Basic and Advanced Excel + Any One (Python/R Programming /Tableau /Power BI) | 20 – 30 (Hours) |
Advanced Excel Batch Timings
| Advanced MS Excel Course | Batch Timing |
| --- | --- |
| Monday to Friday | 8:00 AM – 10:00 AM |
| Monday to Friday | 10:00 AM – 12:00 PM |
| Monday to Friday | 2:00 PM – 4:00 PM |
| Monday to Friday | 4:00 PM – 6:00 PM |
| Saturday/Sunday | 8:00 | 12:00 | 2:00 | 4:00 |
| Sunday | 8:00 AM – 10:00 AM |
| Sunday | 10:00 AM – 12:00 PM |
| Sunday | 2:00 PM – 4:00 PM |
| Sunday | 4:00 PM – 6:00 PM |