Expert Selenium Training in Gurgaon/Gurugram-Automation Testing Course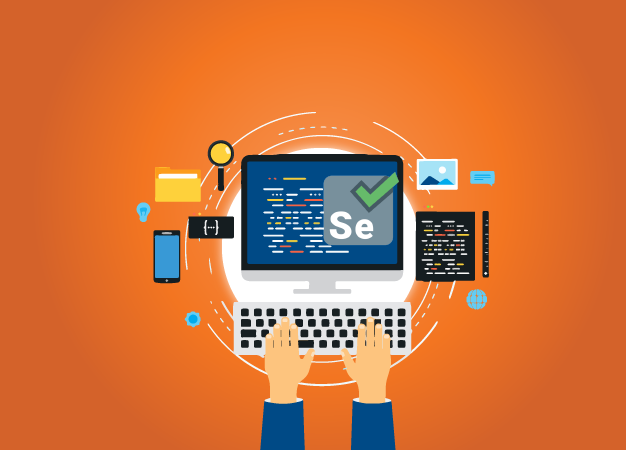 EXPERT SELENIUM TRAINING COURSE
Selenium Grid
GIT HUB
Automation
Test Framework
Maven Project
Management
Tool
Source Labs
DB Connectivity
Web Services
Java For
Web Driver
Locators & Object
Identification
Selenium IDE
Expert Selenium Course Guragaon
Expert Selenium Testing Training Course in Gurgaon
Selenium is one of the most advanced and highly reliable Automation Software Testing Framework used for web-based applications. It is an open source automation Testing tool used by millions of Organisation all over the world for testing purposes. Selenium Automation Testing tools support all the programming languages such as JavaScript, Ruby, Perl, C# and much more. It is also compatible with all the web browser which makes it a leading Software Testing tool for the user. Selenium is a collection of classes, methods and interfaces and if anyone desires to become a professional an automation tester, then it is highly important to attend Expert Selenium Training in Gurgaon/Gurugram provided by SLA Consultant Gurgaon. The Expert Selenium Training offers extensive and practical knowledge of the testing tool using live projects and workshop to the student in order to help them secure in a high paying job after the completion of the Expert Automation Testining Training Course in Gurgaon. The trainers at SLA Consultants Gurgaon are highly certified and industry experts who provide in depth comprehension of Selenium tool allowing the candidate to become a professional in a short span of time. The Expert Selenium Training is designed by the best corporate trainer and meet the requirement of business organisations efficiently. Therefore, if you are graduate in IT field and wants to become a professional software tester, then join our Expert Automation Testing Training in Gurgaon/Gurugram and lead your career to the right direction.
Expert Selenium Training provided by SLA Consultants Gurgaon is an intelligently designed Automation testing Training Course which is targeted towards both fresher and working professionals. The Expert Selenium Training Course covers various topics including Selenium IDE, webDriver, automation test framework, webDriver with test NG framework, selenium grid, maven project management tool, database connectivity, continuous integration testing using Jenkins, and much more. After completing the Expert Automation Testing Training, the participants will be able to gain a better understanding of different flavour in Selenium, Selenium IDE, locators and object identification, Java for WebDriver, TestNG Framework, Selenium WebDriver, Automation Test framework, working with multiple browsers, Selenium Grid, Sauce Labs, Maven project management tools, GITHUB, DB Connectivity and much more. The eligibility criteria for joining the court is to have a graduate degree in IT field will basic knowledge of Selenium Software Testing tool. The Expert Selenium Course will be highly beneficial for the software developer, QA Engineer, System Analyst, Business Intelligence and ETL professional, software tester, etc. At SLA Consultants Gurgaon, we comprise of the very best corporate trainers who are highly respected in the field and contains over 10 years of experience. We also provide job oriented and latest Expert Automation Testing Course curriculum in order to get the most advanced and industry relevant knowledge of Selenium to the participants.
The Expert Selenium Training in Gurgaon/Gurugram offers Real-time Live Practical Expert Automation Testing Training, project and assignment on Real world cases, workshops and handouts, instructor LED classroom, wide admin support, flexible batch timings and 100% Job Placement Assistance to all the applicants. After completing the Selenium Testing Training Course, every participant will be rewarded with a valid Certification in Selenium Software Testing which will help them to secure a promising job at any reputed organisation. And thus, if you want to become a professional selenium software tester, the wait no more and join our Selenium Automation Testing Training Course as soon as possible.
Selenium is an open source and highly reliable Software Testing which helps the business organization to develop high-quality web-based applications easily. Many business organizations are constantly looking for highly skilled and professional Selenium testers who have extensive knowledge and experience in the field. Learning expert Selenium would certainly help you become a demanding and immensely respected professional in the market. Some of the best reasons why you should also learn Selenium Software Testing as below:
The demand for professional Selenium testers in the market is extensively used and increasing. This would help you easily find a promising job opportunity and job security.
By acquiring skills in Selenium Testing, you will be able to enhance the quality of web-based applications, which would allow your respected company to enhance their brand reputation.
You will also be highly respected by your employer and your colleagues as you will be one of the most important assets for the company.
Learning Expert Selenium Automation Testing would also give you high paying job opportunities not only in domestic market but also in international market. The candidates can also enjoy better job security and growth opportunity.
Selenium is one of the most popular and feature-rich software test which is expected to reach a global market of fifty million dollars why the year 2020.
If, after knowing the extensive benefits of learning Expert Selenium Training, you also want to become a professional Selenium Tester, then you should immediately join our Expert Automation Testing Training in Gurgaon/Gurugram and give your career a kickstart. If you have any more questions regarding the Expert Selenium Course or our Best Automation Testing Training Institute, you can give us a call or simply visit Our center.
Course Duration:
55 HRS with Highly Skilled Corporate Trainers (Expert Software Testing Training for Modules – Weekdays / Weekend
SLA Consultants Gurgaon – Expert Software Testing Certification Training Delivery Method:
Web / Desktop Base.
Instructor-Led Classroom Sessions.
Presentations/Demonstration/Practicals of concepts.
Handouts/Assignments/Real-time Exposure to work on Clients.
Expert Selenium Testing Programme Modules
Expert Selenium Testing Modules
Find the Expert Selenium course details below.
Duration of Module
| Automation Testing Course Module | Duration |
| --- | --- |
| Expert Selenium Automation Testing | 55 (Hours) |
Batch Timings
| Automation Testing Schedule | Course Timing |
| --- | --- |
| Monday to Friday | 8:00 AM – 10:00 AM |
| Monday to Friday | 10:00 AM – 12:00 PM |
| Monday to Friday | 2:00 PM – 4:00 PM |
| Monday to Friday | 4:00 PM – 6:00 PM |
| Saturday/Sunday | 8:00 | 12:00 | 2:00 | 4:00 |
| Sunday | 8:00 AM – 10:00 AM |
| Sunday | 10:00 AM – 12:00 PM |
| Sunday | 2:00 PM – 4:00 PM |
| Sunday | 4:00 PM – 6:00 PM |
Download Automation Testing Course Brochure