E-Accounts, E-Taxation, E-GST Course ▷ Free SAP FICO Training ▷ Gurugram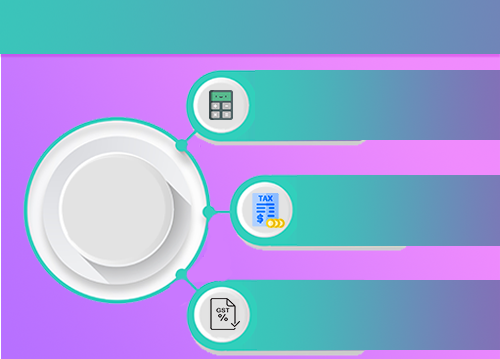 Accounting & Taxation Training in Gurgaon/Gurugram
Accounting
&
Taxation
E-Accounts Training
E-Taxation Training
E-GST Training
E-Accounts, E-Taxation & E-GST Course
E-Accounts, E-Taxation & E-GST Training Course in Gurgaon / Gurugram
The E-Accounts, E-taxation and E-GST Training Course in Gurgaon/Gurugram is designed by SLA Consultants Gurgaon to provide hands on expertise in taxation and accounting field to the candidates. With increasing demand for professional accountants, the training aims to enhance the knowledge and skills of candidates through proficient and industry specific techniques, allowing the participants to lead a successful career in the field in a short period of time. The Accounting & Taxation Course covers various essential accounting topics such as banking and finance, finalization of balance sheet, import and export, GST and more.
The E-Accounts and E-Taxation training in Gurgaon/Gurugram is targeted towards college students who want to embark on a remarkable journey of being a professional accountant. Anyone with a graduate degree in the field is eligible for attending the Business Accounting and Taxation Training. The E-Accounts, E-Taxation & E-GST Course not only targets college graduates, but also offers valuable assistance to working professionals who are looking to improve their skills in Business Accounting and Taxation operations. Our course will offer the individual a solid grasp on Basic and Advanced Accounting principles that can be used across various roles such as credit control, bookkeeping, office administration, payroll and much more.
The Accounts and GST Training in Gurgaon/Gurugram cover all the relevant topics in the field such as Goods and Services tax, Income Tax and TDS, financial statement and Balance Sheet preparation, Banking and Finance, custom, import and export, Advanced Tally ERP 9, MIS Excel, payroll processing, etc. All of the topics will be taught by 4-5 corporate industry experts with years of experience. Some of the unique features of the course include job oriented and updated Accounting & Taxation course curriculum, Live E-Accounts and E-Taxation Practical Training sessions, and wide admin support for class scheduling. Valid certification will be provided to each candidate after completion of the E-Accounts and E-Taxation Course. Workshops and handouts, projects and assignment and real world scenarios will enable the participant to gain practical experience. Furthermore, 100% Job Placement Assistance will also be offered to learners after 70% completion of the E-Accounts and E-Taxation course, enabling them to secure a promising job opportunity in the field. The duration of the E-Accounts, E-Taxation & E-GST Training is 5-6 months or 200-210 hours of theoretical and practical session.
There is no denying that accounting plays a very significant role in every enterprise, no matter the nature or size, as it helps them to operate their finances fluently. Good accounting effort lead to positive impact on business performance whereas poor accountancy will result in heavy losses. Therefore, organizations look for highly dedicated and experienced accountants will relevant skills to handle their finances. Some of the reasons why you should pursue our Accounting and Taxation Training in Gurgaon/Gurugram include:
High Salary: The average salary of an accountant in India is considerably better than other fields in IT. Therefore, you can easily secure a high paying job after completing Accounts and Taxation Course
High Job Security: The role of an accountant is highly necessary is any business organization, thus, you won't have to worry about being unemployed as you will find a relevant job opportunity quickly.
Financial Rewards:If you are opening your own business, then you can save a lot of money by performing accounting operations, for which, otherwise you would have to hire a salaried professional.
Exceptional Growth Opportunity: Accountants after years of experience can become financial manager or secure other important positions in the business organization.
Flexibility: You can also become a self-employed accountant or open your own tax consultancy firm where you work for yourself or take projects from other companies.
With so many benefits associated with the field, you can easily fulfill you desire to become a professional Accountant and Tax consultant by completing our E-accounts E-taxation & E-GST Training in Gurgaon/Gurugram where you will be guided with all the latest and innovative tools and techniques, offered by the very best trainers. To know more about the Accounting and Taxation Course or our institution, please visit our center in Gurgaon/Gurugam.
E-Accounts, E-Taxation & E-GST Practical Training With Advanced Excel/GST – Tally ERP By Chartered Accountant.
Course Duration: 200 – 210 Hours with Highly Skilled 3 – 5 Corporate Trainers
(CA/HR Manager/MIS Analyst) for 9 Modules
SLA Consultants Gurgaon – E-Accounts , E-Taxation & E-GST Practical Training Delivery Method:Web / Desktop Base.
Instructor-Led Classroom Sessions.
Presentations/Demonstration/Practicals of concepts.
Handouts/Assignments/Real-time Exposure to work on Clients.
NOTE: Classes are also Available on Module Basis
E-Accounting, E-Taxation and E-GST Course Modules
Certified Taxation, Accounting, Finance ▷ CTAF Course