HR Statutory Pay-Roll Compliance Training ▷ Free SAP HR/HCM Certification ▷ Gurugram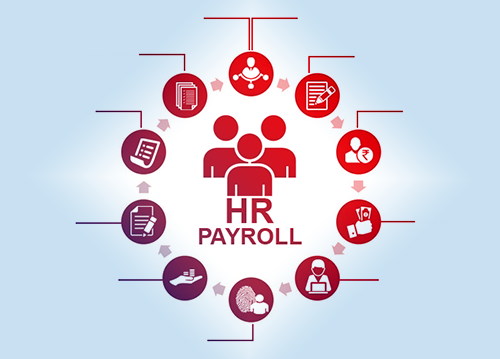 Employee Management
Employee Final
Settlement Process
Letter (Offer & Appointment)
Generation
Auto TDS
Calculation
CTC
Management
Statuary
Forms
Loan/Advance/Interest
Management
Attendance
Management
Online Leave
Management
Salary with
Computation
HR Payroll & Statuary Compliance
Training Course in Gurgaon/Gurugram
HR Statutory & Pay-Roll Compliance Course
HR Statutory & Pay-Roll Compliance Training Course in Gurgaon/Gurugram
Payroll processing refers to the Calculation and computation of salary and wages of temporary and permanent employees within the organization. It is one of the most important functions of the Human Resource Department and thus, every HR needs to have adequate payroll processing skills in order to perform their business operations more effectively. SLA Consultants Gurgaon has designed reliable HR Payroll Processing Training Course for aspiring Human Resource candidates who want to learn accurate computation of salaries and wages of employees using various payroll tools. The HR Statutory & Pay-Roll Course provides in-depth and valuable knowledge on various payroll policies and operations which makes the person give fair wages to the Employees and keeping the reputation of the company intact.
Payroll is an integral part of any organization which is responsible for protecting the reputation of the company by providing appropriate compensation and salary to the employees in a timely manner. It is not just another function within the workplace but one of the most important as well due to its positive and negative impact which may occur in the organization. If the HR payroll department is not able to perform their function properly, it can affect various aspects of the company, from its reputation to the motivation of the employees. Therefore, management of every organization tends to seek highly responsible and professional HR payroll candidate for the job. If you think you can become a successful HR payroll operator in the future, then you should attend quality HR Payroll Processing Training from SLA Consultants Gurgaon in Gurgaon/Gurugram at once. The HR Statutory & Pay-Roll Course is specifically designed to meet the current and future requirements of the business organizations the HR Statutory & Pay-Roll course is divided into three different modules and develop essential skills and expertise within the candidate to compute accurate wages of the employees regardless of their number. Where they will receive information on statutory and legal compliances such as EPF, employees State Insurance and payment of Gratuity along with compensation and benefits and Corporate IR and Labour Law compliances. It is important for the individual to be aware of various laws and regulations related to employment such as Contract Labour Act, Trade Union Act, Factory Act, shops and Establishment Act, minimum wages act and much more, which will be covered extensively during this 2 months HR Statutory & Pay-Roll Training Course.
After completing the HR Statutory & Pay-Roll Training, the participants will be able to increase the morale of the employees by making them feel assured through consistent and timely payment. They can also calculate the right compensation the employees to make them feel their net worth in the company and uphold the repetition of the company in a good manner. Advanced Excel functions will be taught to the learners so that they can compute wages and compensation of the large number of employees in a quick and efficient fashion. HR Statutory & Pay-Roll Training will be provided by corporate trainers with high experience and certification. HR Statutory & Pay-Roll Practical live Training Sessions, projects and assignments, handouts and workshops, flexible best timings and 100% Job Placement Assistance are some of the best features of the HR Payroll Processing Training in Gurgaon/Gurugram.
HR Payroll processing is considered one of the most crucial activities in any business organization as it allows the company to enhance the confidence of employees by giving them timely payment of your hard work. It helps them to make the employees feel loyal to the company and thus, contribute with their full efficiency which increases the productivity of the company as well. This is why most of the candidates tend to pursue a career in HR payroll processing as it makes them a valuable personnel in the organization.
If you are also finding more reasons to pursue HR payroll processing training as a career then below mentioned points can be helpful.
The average salary of a payroll processor in India is Rs.3382107 per annum. It is also one of the most respected job positions in any business field regardless of their nature and size.
You will be responsible for keeping the reputation and reliability of the organization, which makes you critical personnel in the workplace which cannot be replaced easily.
Learning HR payroll processing functionalities will give you many more job profiles to choose from which include a professional HR, financial manager, finance operator, etc.
There is an enhanced job security while working as an HR payroll operator as you will learn a great deal about business management and financial management from the very best in the field.
You can find job opportunities in almost every business industry, whether Pharmaceutical, technical, entertainment, sports, etc. of any scale.
If these results are more than enough to make you go into the field, then join our HR payroll processing Training in Gurgaon/Gurugram immediately. The HR Statutory & Pay-Roll Course is targeted towards both fresher students and working professionals to improve their skills and payroll processing and increase their worth in the department. For any queries, please visit our center in Gurgaon or give us a call.
HR Statutory & Pay-Roll Compliance Training With Advanced Excel & SAP HCM- 100% Practical Training with Interview Guarantee
SLA Consultants Gurgaon is a Learning & Development Company that has been Organizing HR Workshops for Over 10 Years to Benefit Fresher's and Sr. Management Level Professionals. The Workshops are Organized in Big the Corporate Houses ,Colleges and Inhouse.
Highlights of the HR Training Program
You will get trained by industry professionals who have worked in the Corporate World.
You will have access to all software and hardware tools necessary to learn HR skills.
You will get a widely acknowledged certificate.
You will attain 100% job placement opportunities from our end.
You will get the chance to clear all your doubts throughout the program.
Course Duration: 50 – 55 HRS with Highly Skilled Corporate Trainers
SLA Consultants Gurgaon – HR Statutory & Pay-Roll Compliance Training Delivery Method:
Web / Desktop Base.
Instructor-Led Classroom Sessions.
Presentations/Demonstration/Practicals of concepts.
Handouts/Assignments/Real-time Exposure to work on Clients.
NOTE: Classes Are Also Available On Module Basis
HR Statutory & Pay-Roll Programme Modules
HR Statutory & Pay-Roll Training Course
Please find the HR Statutory & Pay-Roll course details. Classes and HR Statutory & Pay-Roll Course can be designed/customize as per request
Duration of Module
| HR Payroll Course Module | HR Payroll Course Duration |
| --- | --- |
| Module 1,2 &3 | 50 – 55(Hours) |
| Module 1 – 2 | 30 (Hours) |
Batch Timings
| HR PayrollCourse Schedule | HR Payroll Batch Timing |
| --- | --- |
| Monday to Friday | 8:00 AM – 10:00 AM |
| Monday to Friday | 10:00 AM – 12:00 PM |
| Monday to Friday | 2:00 PM – 4:00 PM |
| Monday to Friday | 4:00 PM – 6:00 PM |
| Saturday/Sunday | 8:00 | 12:00 | 2:00 | 4:00 |
| Sunday | 8:00 AM – 10:00 AM |
| Sunday | 10:00 AM – 12:00 PM |
| Sunday | 2:00 PM – 4:00 PM |
| Sunday | 4:00 PM – 6:00 PM |