Corporate Finance & Financial Modelling Training+Free SAP FICO Training in Gurgaon/Gurugram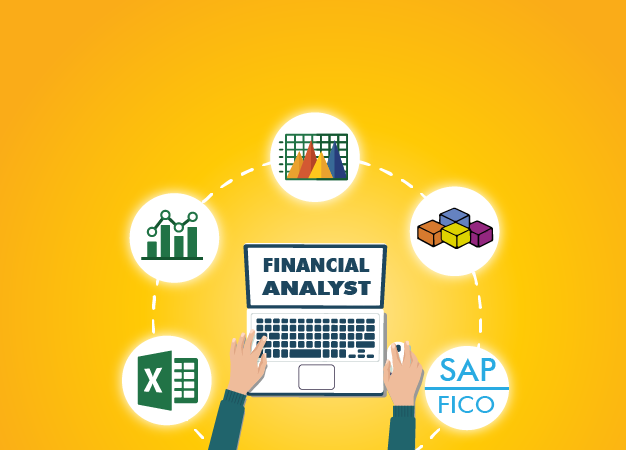 CORPORATE FINANCIAL ANALYST
TRAINING COURSE IN GURGAON
Financial Modeling
Advanced
&nbsp&nbsp&nbspExcel
VBA/Macros
Programing
Financial
Statement
Analysis
SAP FICO
Corporate Financial Analyst Training
Corporate Finance & Financial Modelling in Excel Training Course
Finance industry is a very vast industry with outstanding career opportunities. One of the most coveted and popular career in the finance industry is of a Corporate Financial Analyst. A financial analyst can be considered as fortune teller who guide individuals and businesses to make investments at the right places and at right time to achieve better return on investments. Whether it is bonds, stock market or any other kind of financial investments, an experienced and skilled Financial Aanalyst is able to provide accurate information related to the field tells the company to invest accordingly to acquire better returns. This is the main reason they are one of the most highly paid professionals in the finance field. But becoming a successful Financial Analyst requires a lot of hard work, dedication and abilities as they are required to identify the market trends, business patterns and marketing conditions effectively in order to come to a better conclusion when it comes to making an investment. Thus, SLA Consultants Gurgaon offers you the best and High Quality Corporate Financial Analyst Training in Gurgaon/Gurugram where you will learn the duties and responsibilities of a professional Financial Analyst through our job oriented and updated course material taught by the very best corporate trainers you could ever find. We are the Leading Financial Analyst Training Institute in Gurgaon/Gurugram with a mission to give our students a deep and better understanding of Financial Analysis processes and make them an appropriate candidate for any financial industry within a matter of weeks. To know more about the course, please read on.
The Corporate Financial Analyst Training by SLA Consultants Gurgaon is designed to give profound and industry focused expertise to the learner who wants to become a professional Financial Analyst. Our highly skills and experienced trainers help them gain required analytical skills, communication skills, mathematical skills and technical skills to pursue a successful career in the finance industry. We provide valuable and deep insight on various finance topics which include Advanced excel skills such as mathematical functions, text and data functions, lookup and reference functions, logical functions, etc., advanced VBA and Macros skills, Financial Modelling skills, equity research and report writing. The Job-oriented Corporate Finance Training will help the students learn various Financial Planning and Analysis skills such as preparing financial models, recommending a Corporate Finance Course of action on company's stocks, making predictions about businesses, industries and sectors, developing financial reports on the current business performance, calculating equity valuation multiples, performing ratio analysis, auditing and fixing financial issues and much more.
All these skills will be gained by the learners through our outstanding and industry relevant Corporate Financial Analyst Training Program in Gurgaon/Gurugram. The trainers who have over 10 years of teaching experience in the field would guide the students towards success through their detailed knowledge and Innovative Corporate Finance Training techniques which include Real-time Live Financial Analyst Practical Training Sessions
, projects and assignments on real world case scenarios, updated Corporate Finance & Financial Modelling in Excel course curriculum, wide admin support, workshops and handouts, online support and 100% Job Placement Assistance. Thus, if you have the will to take on the challenge to become financial analyst, then attend our Expert Financial Modelling in Excel Training Course and give your career a solid beginning. Anyone with a graduate degree in commerce field with basic computer knowledge can pursue the Financial Analyst Training Course, which is targeted towards both freshers and working professionals.
As already mentioned above, any career in the finance field is a worthy career to have for a long period of time. And being a Financial Analyst is certainly one of the best job profiles one could ever find. Every business organization wants to have a professional who can guide them where to invest their money and how so that they can get better return on their investment. Whether it is stock market or any other kind of financial investment, achieving higher return is the main goal of the company, which can be done through better Financial Analysis. Thus, they hire professional Financial Analyst, and if you acquire the skills, you will also become a highly popular candidate in the finance industry. Some other reasons why pursuing a career in Financial Analysis is best for you are as follows:
The significance of a Financial Analyst is huge in the finance industry and business market, thus acquiring skills in Financial Analysis could help you enjoy respect and recognition in the field and among your colleagues and employer.
The requirement for a highly skilled and certified Financial Analyst is huge in the market as every organization, regardless of their scale and size, wants to invest at right places and in right time. Thus, you will have a better job security after learning financial analysis and modelling skills.
There is a tremendous job growth opportunity in the field as one could become a senior finance manager in a few years of working experience.
The earning potential of a Financial Analyst is extremely high. In fact the average salary of an entry level financial analyst in India is Rs. 327,070 per annum, which certainly increases as per their experience and working knowledge.
Being a professional Financial Analyst, you can also earn by investing yourself in stock market and predicting the right place to invest your own money to achieve better and higher returns.
Since stock market is a field that runs almost exactly the same at any part of the world, you can also enjoy a successful career as a Financial Analyst abroad as well.
These are only a few of the benefits of acquiring skills in financial analysis and pursuing a career in it. If you are truly eager to enjoy these along with some other benefits, then join our Corporate Financial Analyst Training in Gurgaon/Gurugram at once. To resolve any queries you may have regarding the course or our institute, please visit or call our centre.
Course Duration:
120 – 135 HRS with Highly Skilled Corporate Trainers-Investment Banking & Financial Modeling In Excel-Training for 5 Modules-Weekdays/Weekend
SLA Consultants Gurgaon – Financial Analyst Certification Training Delivery Method:
Web / Desktop Base.
Instructor-Led Classroom Sessions.
Presentations/Demonstration/Practicals of concepts.
Handouts/Assignments/Real-time Exposure to work on Clients.
NOTE: Classes Are Also Available On Module Basis
Investment Banking & Corporate Finance+SAP FICO Training Programme Modules
Corporate Finance, Investment Banking & Financial Analyst+ SAP FICO Training Course
Find the Corporate Finance course details below. Classes and Course can be designed/customize as per request
Duration of Module
| Financial Analyst Course Module | Financial Analyst Course Duration |
| --- | --- |
| Financial Statement Analysis & Corporate Finance | 35 Hours |
| Financial Modeling – Equity Valuation | 30 Hours |
| Ad. Excel + Financial Statement Analysis & Corporate Finance | 50 Hours |
| Ad. Excel + Financial Modeling – Equity Valuation | 55 Hours |
| Ad. Excel + Financial Statement Analysis & Corporate Finance+ Financial Modeling – Equity Valuation | 75 Hours |
| Financial Statement Analysis & Corporate Finance+ Financial Modeling – Equity Valuation | 65 Hours |
| Ad. Excel + Financial Statement Analysis & Corporate Finance+ Financial Modeling – Equity Valuation + VBA/Macros | 90 Hours |
| Ad. Excel + Financial Statement Analysis & Corporate Finance+ Financial Modeling – Equity Valuation + VBA/Macros + SAP FICO | 110 Hours |
Batch Timings
| Financial Analyst Course Schedule | Financial Analyst Batch Timing |
| --- | --- |
| Sunday – Thursday | 09:00|11:00|2:30|4:30 |
| Saturday & Sunday | 09:00|11:00|2:30|4:30 |
| Sunday | 09:00|11:00|2:30|4:30 |