Core Java & Advanced Java with J2EE Frameworks Training in Gurgaon/Gurugram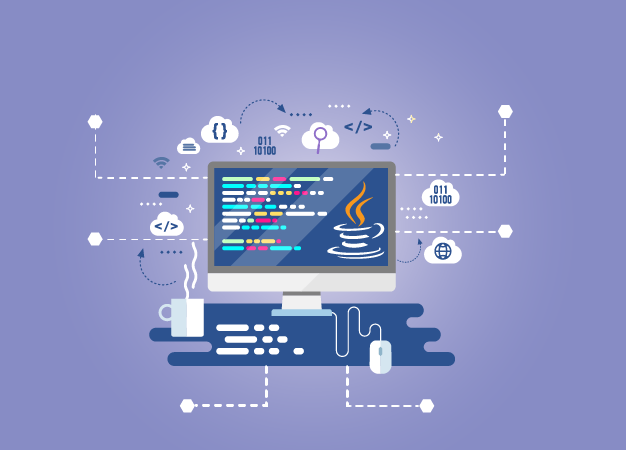 Core Java & Advanced Java With J2EE Frameworks
Design
Pattern
&nbsp&nbsp&nbspWeb
Services
Spring
Hibernate
Core Java
Advanced Java
Core & Advanced Java with Frameworks
Core & Advanced Java Training Course in Gurgaon/Gurugram
Java is a general purpose object oriented programming language, which is class based. It is highly popular among business organizations which is used to develop web applications and platforms. It is highly flexible, which allows the user to write code that can be executed on any machine regardless of its platform. Thus, learning Java and becoming a professional java programmer can help you enjoy various benefits which include high income, job security and respect. However, it is not easy to learn Java on your own as it is a very complex programming language. To become a professional Java programmer, you can join Best Core Java Training & Advanced Java Training Course with framework in Gurgaon/Gurugram provided by SLA Consultants Gurgaon. The Core & Advanced Java Live Project Training provided by us is a job oriented and industry focused which targets both freshers and working professionals who wants to develop and enhance their java skills and lead a successful career. We comprise of highly trained and certified professional who will use latest and updated Java course curriculum to guide the students towards success. The Core Java Training Course & Advanced Java Training Course is specifically designed to meet the current and future requirements of business industry and thus, if you want to learn Java and excel java programming, then it is highly recommended that you join our Best Core Java Training& Advanced Java Training in Guragon/Gurugram as soon as possible.
SLA Consultants Gurgaon provides Best Core & Advanced Java Training in Gurgaon/Gurugram provided by industry experts. We are equipped with latest tools and advanced lab and use updated and Job-oriented Java Course syllabus to give advanced knowledge to the candidate related to Java programming. Our trainers are some of the best and certified Java trainers with over 10 years of experience in the field. The Core & Advanced Java Certification Training is well crafted as per the industry requirements and aim to help the students get right information and attain a high paying job after completing the Core Java Training Course or Advanced Java Certification Training or both. It covers a wide range of topics Java programming including core Java, Advanced Java, Sping framework, Hibernate framework, REST web services and design patterns. Some of the advanced features that you will learn in the Advanced Java Training include dynamic linking, multi-threading, arrays, exception handling, encapsulation, polymorphism, overloading, synchronization, networking, etc. The Core Java Training Course in Gurgaon for the intermidiate or fresher to learn & Advanced Java Training Course in Gurgaon is suitable for candidates who wants to become professional web developers, acquire skills in Java web development, mobile application developer, Android developer, etc.
At SLA Consultants Gurgaon, we offer Real-time Core & Advanced Java Live Practical Training, instructor led classrooms with projectors, hands on expertise, projects and assignments on real world cases, workshops and handouts, 7 days admin support, flexible class timings and 100% Job Placement Assistance. Anyone with a graduation degree in IT field can attend the Core Java Training in Guragon/Gurugram & Advanced Java Training in Guragon/Gurugram. At the end of the Java Training, the participants will be awarded with a valid certification and provided interview preparations to help them easily acquire a good job opportunity. Therefore, if you want to pursue a career in IT field and learn Java to lead a promising career, then Join SLA Consultants Gurgaon at once.
Java is certainly the most popular programming language currently used. It is easy to learn, object oriented and open source, making it one of the most utilized language by the business organizations. Java is also a very powerful development tool, which comprise various frameworks including Spring and Hibernate. Below are provided some more reasons on why you should learn Java and the benefits you can achieve from it.
There is a huge demand for programmers with sound knowledge of Java in the market. It continues to create more job opportunities in the tech industry and due to the popularity of Android apps; it has also opened more opportunities for web developers.
By acquiring skills in Java, you can get appointed at various business fields due to its universal usage. It is used in mobiles, fans, computers and any other electronic device, thus you can target many industries at once.
There is a large community of Java with over 10 million Java developers in the world. Being an open source also contributes to the society, thus you can get support whenever you are stuck on any query regarding the tool.
Learning java will make you a professional web developer who can easily create essential applications easily using different frameworks. This will help you enjoy respect and recognition among colleagues and employer.
You will be able to earn a great income by learning and mastering Java programming skills. The average income of a Java developer in India is Rs.434,304 per year and in overseas, it is $69,722 per annum.
In order to enjoy these benefits and lead a remarkable career in technical field, wait no more and join Core & Advanced Java Training in Gurgaon/Gurugram provided by SLA Consultants Gurgaon. To know more about the course or our Best Core Java Training Institute in Gurgaon for beginners, & Best Advanced Java Training Institute for the professional level learners can visit our office or can contact us on call.
Course Duration: 90 HRS with Highly Skilled Corporate Trainers
(Core & Advanced Java Training) for 6 Modules – Weekdays / Weekend
SLA Consultants Gurgaon – Core & Advanced Java Certification Training & Delivery Method:
Web / Desktop Base.
Instructor-Led Classroom Sessions.
Presentations/Demonstration/Practicals of concepts.
Handouts/Assignments/Real-time Exposure to work on Clients.
NOTE: Classes Are Also Available On Module Basis
Core & Advanced Java Programme Modules
Core & Advanced Java + Web Services with Frameworks Modules
Find the Core Java & Advanced Java course details below. Classes and Course can be designed/customize as per request
Duration of Module
| Java Course Module | Duration |
| --- | --- |
| Core Java | 25 Hours |
| Advanced Java | 30 Hours |
| Core + Advanced Java | 55 Hours |
| Spring + Hibernate + Web Services + Design Pattern | 35 Hours |
| Core + Advanced + Spring + Hibernate + Web Services + Design Pattern | 90 Hours |
Batch Timings
| Java Course Schedule | Java Course Timing |
| --- | --- |
| Monday to Friday | 8:00 AM – 10:00 AM |
| Monday to Friday | 10:00 AM – 12:00 PM |
| Monday to Friday | 2:00 PM – 4:00 PM |
| Monday to Friday | 4:00 PM – 6:00 PM |
| Saturday/Sunday | 8:00 | 12:00 | 2:00 | 4:00 |
| Sunday | 8:00 AM – 10:00 AM |
| Sunday | 10:00 AM – 12:00 PM |
| Sunday | 2:00 PM – 4:00 PM |
| Sunday | 4:00 PM – 6:00 PM |
Download Advanced Java with J2EE Frameworks Course Brochure