Node.js Certification Training Course in Gurgaon/Gurugram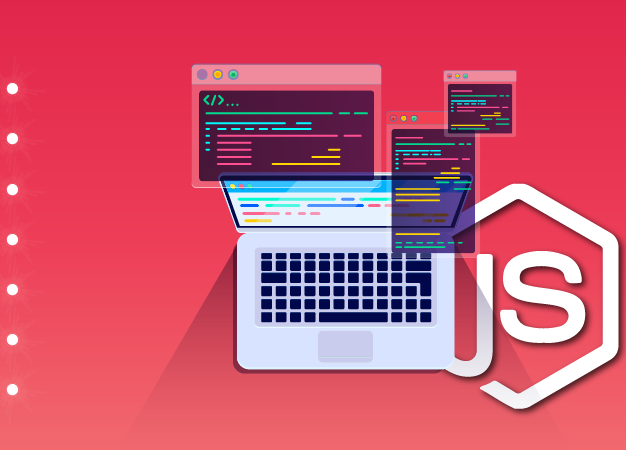 Node.js Training in Gurgaon
Events & Streams
Express Framework
Node.js in the Web
Unit Testing
Database Sessions
Scaling Node Application
Monitoring & Ad. Features
Node.Js Course in Gurgaon
Node.js Training Course in Gurgaon/Gurugram
Node.js is an open source JavaScript server framework which has the ability to run on various platforms such as Linux, Unix, Windows, Mac OS X, etc. It is built on Google Chrome's v8 JavaScript engine which is used for developing networking and server side applications. Node.js can develop dynamic page content create, update, delete server files, gather information and modify database as per the requirements. This is why it is used extensively in various business organizations for smooth functioning of database and creating server side applications in an efficient manner. If you are willing to gain knowledge and skills in Node.js and become a professional web developer, then it is recommended that you attend Node.js Training Course in Gurgaon/Gurugram offered by SLA Consultants Gurgaon, which is a leading and prominent training institute. The training is designed by industry experts keeping in mind the current and future requirements of the business industry. It covers a wide range of topics that would help the participants achieve outstanding and industry focused expertise in Node.js and web development, allowing them to become a professional in a short period of time. The Node.js Training is given by the very best corporate trainers who use their experience to train and clear any doubts of the students in real time. After completing the Node.js Certification Training, proper Job Placement Assistance is also provided to the candidates to help them secure a high paying job in the field.
Node.js is a very powerful tool for building applications, developing event driven programs and controlling web servers. It uses JavaScript without a web browser which is fast, easy to use and scalable. Business organizations all over the world use Node.js for varying purposes and thus, there is huge requirement for professional and skilled web developers with Node.Js knowledge. Therefore if you want to target these requirements by learning Node.js web development skills, then join SLA Consultants Gurgaon's Best Node.js Training Course in Gurgaon/Gurugram where we provide rigorous and Result-oriented Node.js Training Course to the candidates using latest tools and techniques. Our training will provide expertise to the participants on various topics such as events and streams, express framework, using Node.js in web, developing web applications using Express.js, unit testing, database and sessions, scaling node application, monitoring and other advanced features.
The Node.js Training Class is targeted towards both freshers and working professionals who wants to acquire relevant skills in Node.js web development. Anyone with a graduation degree in IT field can pursue the Node.js Practical Training without having any prior knowledge of programming. Our highly certified and professional experts are responsible for giving the training to the participants who contains over 10 years of working experience in the field. It can be pursue by various applicants such as aspiring web developers, project managers, software architects, testing professionals, Full Stack developer, server side programmer, software engineer, etc. SLA Consultants Gurgaon provide real time Node.js live practical training, projects and assignments on real world companies, instructor led classrooms with projectors, workshops and handouts, hands on expertise, wide admin support, flexible class timings and 100% Job Placement Assistance. We also offer a valid certification at the end of the training and send them to our associated firms for job interviews to help them secure a promising career ahead.
Node.js is an easy to learn and use and open source JavaScript framework which is used by millions of companies all over the world. It allows the companies to develop complex and useful server side web applications and network applications easily, allowing them to easily share essential information from one place to another. It is also useful for developing and updating database. Thus, reputed organizations constantly seek professional web developers who are skilled in Node.Js programming. Therefore, if you learn Node.Js, then you can enjoy many benefits which are as follows:
Since Node.js is quite flexible and scalable in use, you won't find much difficulty in learning web development using the tool and become a professional in no time.
There is a huge requirement for expert web developers with Node.js skills in the market, which you can target and secure a high paying job at any reputed firm.
Various MNC firms such as Accenture, HCL, Google, etc. always have requirements for Node.js developers. Thus, if you acquire skills in the field, you can get hired at any of these giant industries.
There are many other job profiles which you can target after learning Node.js skills which include software developer, software architect, project manager, network developer, server side programmer, etc.
You will also be able to earn a high income after learning Node.Js web development due to its extensive demand. The average salary of a web developer with Node.js skills in India is Rs.272,654 per annum.
These are some of the benefits of becoming a web developer with Node.js expertise. If you also wish to enjoy these benefits along with many more, then join Node.js Training in Gurgaon/Gurugram as soon as possible from SLA Consultants Gurgaon. If you have any queries regarding the course or our institute, you can reach us either through call or email, or you can simply visit our center.
Course Duration:
30-40 HRS with Highly Skilled Corporate Trainers (NodeJS Training) for 10 Modules – Weekdays / Weekend
SLA Consultants Gurgaon – NodeJS Certification Training & Delivery Method:
Web / Desktop Base.
Instructor-Led Classroom Sessions.
Presentations/Demonstration/Practicals of concepts.
Handouts/Assignments/Real-time Exposure to work on Clients.
Node.js Programme Modules
Node.js Training Modules
Find the Node.js course details below.
Duration of Module
| Node.js Course Module | Node.js Course Duration |
| --- | --- |
| Node.Js | 30-40 (Hours) |
Batch Timings
| Node.js Course Schedule | Course Timing |
| --- | --- |
| Monday to Friday | 8:00 AM – 10:00 AM |
| Monday to Friday | 10:00 AM – 12:00 PM |
| Monday to Friday | 2:00 PM – 4:00 PM |
| Monday to Friday | 4:00 PM – 6:00 PM |
| Saturday/Sunday | 8:00 | 12:00 | 2:00 | 4:00 |
| Sunday | 8:00 AM – 10:00 AM |
| Sunday | 10:00 AM – 12:00 PM |
| Sunday | 2:00 PM – 4:00 PM |
| Sunday | 4:00 PM – 6:00 PM |
Download Node.js Course Brochure