UI Developer Training Course in Gurgaon/Gurugram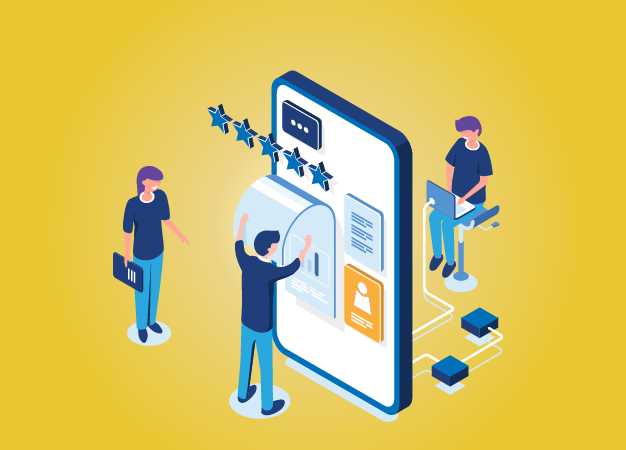 UI Developer Training Course
HTML 5
CSS3
Bootstrap 3
JQuery
AngularJS
JavaScript
Responsive UI Developer Course
UI Developer Training Course in Gurgaon/Gurugram
User interface acts as a medium for human to interact with the machines. The user interface design allows the user interaction to be easy and efficient. The UI development is currently one of the hottest topics in the IT industry due to the increasing requirement of smart and intuitive customer handling. A UI developer is responsible for enhancing the user interaction on the website by developing elegant visual design using Photoshop and HTML code and improves the functionality of the website with great details. In order to become a professional UI developer, you need to attend Best UI Developer Training Course in Gurgaon/Gurugram from SLA Consultants Gurgaon, where you can gain the ability to develop browser based user interface along with UI web solutions as per the requirements of the client. The UI Developer Training Course will help you learn all the concepts of UI development and make you an expert in web development using HTML, CSS, JavaScript, JQuery, AngularJS, etc. The UI Developer Training Course is designed by industry experts and according to the current standards of the industry. After the UI Developer Certification Training, the candidates can easily acquire a high paying job as a UI developer at reputed web development agency as you will receive extensive knowledge and learn valuable expertise in the field through reputed and experienced trainers. Therefore, if you are a graduate in IT field and looking to develop a remarkable career, then join our Quality UI Developer Training in Gurgaon/Gurugram and lead your career to the right direction.
The UI Developer Training in Gurgaon/Gurugram provided by SLA Consultants Gurgaon will allow the participants to develop easy and effective user interface using various tools. It will provide all the industry relevant information related to user interface development and enhance the user interaction while browsing the website of the company. Every business organization want their website to be user friendly and easy to navigate. And for an individual to make sure they are able to help their respective company develop such a website, they first need to learn all the important concepts of user interface development. The UI Developer Training Course will provide valuable information on various concepts such as HTML5, CSS3, JavaScript, JQuery, Bootstrap 3, AngularJS and Unix System features. It will help the candidates learn how to develop complex server side applications which can utilize dynamic database and store data thoroughly.
At the end of the UI Developer Training Course, you will be able to design the website and mobile application for the company effectively, acquire thorough information on various aspects of user interface development, learn to manage database, etc. The UI Developer Training in Gurgaon/Gurgaon is targeted towards fresh graduates, working professionals, front end and back end developers, database professionals, product managers, Photoshop and Illustrator experts, etc. SLA Consultants Gurgaon offers exceptional learning environment where the candidates go through Real-time UI Developer Live Practical Training given by highly certified and experienced instructors. We also provide projects and assignment on real world cases and give full admin support to the students for clearing any doubts. Other features of the UI Developer Course include workshops and handouts, instructor led classrooms with projectors, free trial classes, interview preparations and 100% Job Placement Assistance.
UI development is one of the most popular occupation in the IT industry these days, which is sought after by millions of individuals. It allows the company to increase the engagement level with the user who visits the company's website and thus, increasing the chances of generating leads. Companies from all over the world are constantly looking for reliable and skilled UI developers who can help them design their website to increase user interaction. Below are provided some of the reasons why you should learn UI development.
UI development is easy to learn as it includes less coding in scripting language. You will be able to become a professional UI developer in a short span of time and pursue a successful career easily.
The demand for professional and skilled UI developers in the market is huge, which you can target and find a suitable job at any reputed industry easily. You will also enjoy job security.
After acquiring skills in UI development, you can also pursue many other job profiles such as graphic designer, web developer, web designer, mobile application developer, etc.
A UI developer tends to earn a good income as compared to other IT professionals in the web development field. The average salary of a UI developer in India is Rs.456,667 per year and in overseas, it can be $89,890 per year on an average.
There is an immense job growth opportunities associated with UI development as you can become a product manager, senior graphic designer, senior web developer within a few years of working.
There are no prerequisites to join the UI Development Training in Gurgaon/Gurugram other than having a graduate degree in IT field. Therefore, if you want to learn about UI development and become a professional web designer and lead a promising career, then join SLA Consultants Gurgaon at once. For more information regarding the course or our institute, you can call us or visit our center.
Course Duration:
40 – 45 HRS with Highly Skilled Corporate Trainers
(UI Web Developer) for Module – Weekdays / Weekend
SLA Consultants Gurgaon – UI Web Developer Training Delivery Method:
Web / Desktop Base.
Instructor-Led Classroom Sessions.
Presentations/Demonstration/Practicals of concepts.
Handouts/Assignments/Real-time Exposure to work on Clients.
UI Developer Programme Modules
UI Developer Modules
Find the UI Developer course details below.
Duration of Module
| UI Developer Course Module | UI Developer Course Duration |
| --- | --- |
| UI Web Developer | 40 – 45 Hours |
Batch Timings
| UI Developer Course Schedule | Course Timing |
| --- | --- |
| Monday to Friday | 8:00 AM – 10:00 AM |
| Monday to Friday | 10:00 AM – 12:00 PM |
| Monday to Friday | 2:00 PM – 4:00 PM |
| Monday to Friday | 4:00 PM – 6:00 PM |
| Saturday/Sunday | 8:00 | 12:00 | 2:00 | 4:00 |
| Sunday | 8:00 AM – 10:00 AM |
| Sunday | 10:00 AM – 12:00 PM |
| Sunday | 2:00 PM – 4:00 PM |
| Sunday | 4:00 PM – 6:00 PM |
Download UI Developer Course Brochure