ETL Testing Training Course in Gurgaon/Gurugram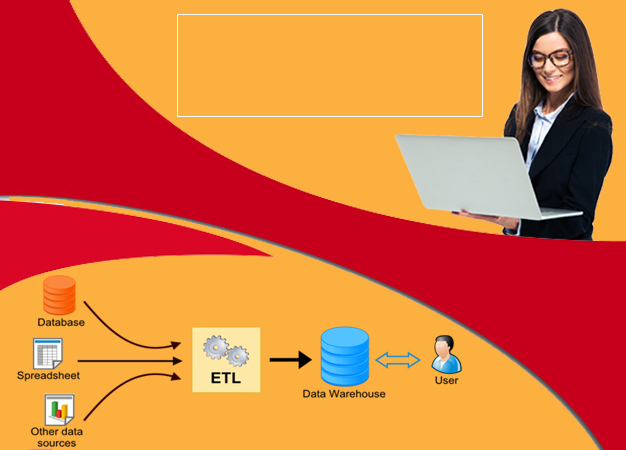 ETL Testing Training Course
Training Course in Delhi NCR
Noida and Gurgaon
ETL Testing Course Gurgaon
ETL Testing Course Training in Gurgaon
ETL stands for Extract, Transform and Load which is a process offloading data from source system to the data warehouse. The data is extracted from OLTP database, then transformed in order to match the data warehouse schema and loaded to the data warehouse database. There are many data warehouses which incorporate data from non- OLTP systems such as legacy system, text files and spreadsheets. ETL Testing is extremely popular database testing technique which is used by various organizations all over the world. SLA Consultants Gurgaon offers the Best ETL Testing Training Course in Gurgaon/Gurugram to the candidates who want to learn it is testing, data warehousing, OLAP, OLTP, verifying database, business intelligence and deploying SQL. The ETL Testing training is intelligently designed by the industry expert in order to meet the current and future requirements of the business industry. The ETL Testing Certification Training is built for specific candidates who want to gain knowledge in fundamental of ETL Testing and also is quite beneficial for Aspiring Software Testing and professional want to perform data analysis and extract relevant data from the databases. We are a leading industrial training institute located in Gurgaon and offers the best learning environment for Students in order to learn ETL Testing and become a professional in the field. The ETL Testing Practical Training Course is provided by the best corporate trainers and the course curriculum is quite updated and concentrates the current standard of the industry. Therefore, if you are graduate in the IT field and want to learn data warehousing and ETL Testing, then join our Advanced ETL Testing Training Course in Gurgaon/Gurugram as soon as possible.
SLA Consultants Gurgaon offers a reliable and responsive ETL Testing Training in Gurgaon/Gurugram which will certainly help the students secure a promising job in any MNC organization. The trainers at SLA are subject specialist professional with over 10 years of experience in the field who provide in-depth knowledge of ETL testing. The data warehousing and ETL testing is utilised at various stages in the transformation of raw information into the business intelligence. The information is collected and transacted by the human resource, sales department, administration in order to utilize the information for business operation. The ETL Testing Training Course will help the participant perform a series of tasks in order to debug each stage of the transformation in order to ensure efficiency. The ETL Testing Training Course in Gurgaon/Gurugram covers a wide range of topics including database management system, ETL testing, types of ETL testing, data completeness, responsibilities of an ETL tester and automation of ETL testing. At the end of the ETL Testing Training the participant will be able to verify the quality of the data, validate the source, perform data sex, verify the schema, run performance tests on data, run a host of other tests, keep error log, etc. efficiently.
Anyone with a graduation degree in IT field and some familiarity with SQL queries and data warehousing concepts can pursue the ETL Testing Training Course in Gurgaon/Gurugram. SLA Consultants Gurgaon has been providing ETL Testing Training Course to candidates for over 8 years successfully with their Real Time Live Practical Training Course, projects and assignments on Real world cases, workshops and handouts, instructor led classroom, hands on expertise, wide admin support and 100% Job Placement Assistance. After completing the ETL Certification Course, the candidate will become a professional in data warehousing and business intelligence field and will be able to secure a high paying job at a reputed industry.
ETL Testing is extremely important for the business organization in order to ensure the quality of the information extracted and identify the irregularities in the data for data warehousing and use it for business intelligence purposes. It is one of the most sought after job profile in the IT field and offers a wide range of benefits to the candidate which include:
An ETL tester earns a remarkable income as compared to the other software testers, which only increases as per the experience.
After acquiring skills in ETL testing, you will be able to pursue any other job profiles which include software engineers, software analyst, database project manager, mainframe professionals, business intelligence manager, SQL developers, etc.
You will become a Very respected and highly admired professional in your company after acquiring ETL Testing Certification.
During the interview, you will have a high chance of acquiring the job profile as compared to other candidates without any certification in the field.
There are many it industries who are constantly looking for professional ETL testers due to the increasing demand of ETL testing professionals.
If you want to enjoy this enormous benefits, then it is highly recommended that you join ETL Testing Training Course in Gurgaon/Gurugram without any delay. For more information regarding the course or our Institute, you can give us a call or visit our centre in Gurgaon.
Course Duration:
40 HRS with Highly Skilled Corporate Trainers (ETL Testing) for 9 Modules – Available Sessions on Weekdays / Weekend
SLA Consultants Gurgaon – ETL Testing Practical Training & Delivery Method:
Web / Desktop Base.
Instructor-Led Classroom Sessions.
Presentations/Demonstration/Practicals of concepts.
Handouts/Assignments/Real-time Exposure to work on Clients.
ETL Testing Programme Modules
ETL Testing Modules
Find the ETL Testing course details below.
Duration of Module
| ETL Testing Course Module | ETL Testing Course Duration |
| --- | --- |
| ETL Testing | 40 (Hours) |
Batch Timings
| ETL Testing Course Schedule | ETL Testing Timing |
| --- | --- |
| Monday to Friday | 8:00 AM – 10:00 AM |
| Monday to Friday | 10:00 AM – 12:00 PM |
| Monday to Friday | 2:00 PM – 4:00 PM |
| Monday to Friday | 4:00 PM – 6:00 PM |
| Saturday/Sunday | 8:00 | 12:00 | 2:00 | 4:00 |
| Sunday | 8:00 AM – 10:00 AM |
| Sunday | 10:00 AM – 12:00 PM |
| Sunday | 2:00 PM – 4:00 PM |
| Sunday | 4:00 PM – 6:00 PM |
Download ETL Testing Course Brochure