E-Accounts , E-GST Training Course ▷ Free SAP FICO Certification ▷ Gurugram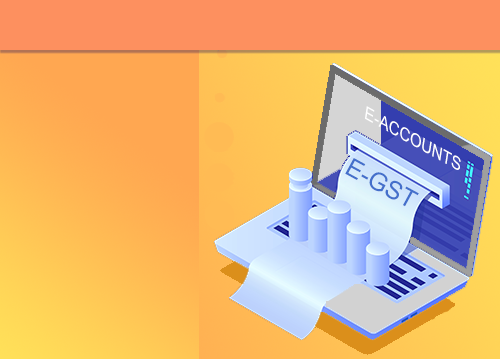 E-GST & E-Accounts Training Course in Gurgaon/Gurugram
GST- Goods & Services Tax- By Chartered Accountant
Income Tax/TDS - By Chartered Accountant
Finalization of Balance sheet / preparation of Financial Statement
Banking & Finance Instruments
Customs / Import & Export Procedures
Accounting & Taxation Professional Training|GST-Goods & Services Practical Training
E-Accounts & E-GST Course in Gurgaon
E-Accounts & E-GST Training Course in Gurgaon/Gurugram
E-Accounts and E-GST Training Course allow the aspiring accountant and tax consultants get clear insight and in-hand expertise in accounting functions including banking and finance, Goods and Services tax, income tax, TDS, financial statement, Import and Export and much more. The dedicated Business Accounting Training is designed and offered by SLA Consultants Gurgaon who is a leading and accredited Accounting Training Institute in Gurgaon/Gurugram, consisting of the most reliable, dependable and industry specific comprehension to help the learners acquire a promising job.
In today's corporate world, no one can ignore or overlook the importance of Business Accounting as it contributes fairly to the success of the organization by handling and recording the finance of the company, allowing the management to take essential financial decisions. It involves tracking the expenses and revenue of the firm over a specific period of time along with computing various taxes that applies on the business operations. With E-Accounts, E-GST Training in Gurgaon/Gurugram by SLA Consultants Gurgaon, the participants can gain comprehension and practical experience on the all the concepts of Accounting and Taxation in a short period of time.
The E-Accounts & E-GST Training consists of 5 important modules known as Goods and service tax, banking and finance, income tax and TDS, preparation of balance sheet and financial statement and custom, import and export. All these modules will be covered by various certified chartered accountants with at least 10-15 years of experience. SLA also comprises of most innovative features while providing the E-Accounts & E-GST Training such as Live Practical E-Accounts & E-GST Training sessions, online support and tutorials, job oriented and updated E-Accounts & E-GST Course curriculum, projects and assignments, handouts and workshops and 100% Job Placement Assistance. A valid Accounts & GST training certification will be given to the participants who have completed the E-Accounts & E-GST course. The total duration of the 5 modules is 80-100 hours, but candidates can choose to study specific modules as well. The eligibility criteria to join the Accounts & GST training is a graduate degree in commerce. Last year college students can also pursue the E-Accounts & E-GST Course.
Accounting and Taxation is one of the most integral part of any business, regardless of the nature and scale. Every organization wants to hire candidates with higher skills in Accounting and Taxation, who could monitor and record their business transactions, expenses, revenues, etc in an efficient manner. Therefore, it is no wonder that most of the commerce students tends to follow this line as their career choice, apart from business management. The ability to record and transact business operations are extremely useful for business enterprises and to have these skills would certainly offer the candidate with wide job opportunities.Some other reasons why learning Accounts and Taxation could be beneficial for the career are as follows:
You can pursue a successful career in business accounting where you will become one of the most important assets of the company.
There are various job opportunities the individual can pursue after achieving certification in Accounting and Taxation such as business manager, Accounting Manager, accounting operator, tax consultant, etc.
The annually average salary of tax consultants in India which is considered extremely high as compared to other positions in the field.
You can open your own tax consultancy firm after acquiring certification in business Accounting and Taxation.
There is an excessive demand for professional accountants in the Indian market which learners can take advantage of by gaining essential skills in the field.
The participants can also take accounting and taxation projects on a freelance basis to earn extra income.
Hence, if you wants to learn or improve your business accounting skills, then join SLA Consultants Gurgaon's E-Accounts and E-GST Training in Gurgaon/Gurugram as soon as possible. If you have any query related to the E-Accounts & E-GST Course or want to take a free demo class, feel free to contact us at our office.
Course Duration: 80 – 100 HRS with Highly Skilled 5 – 6 Corporate Trainers
2-3 CA Expert Trainers for 5 Modules
SLA Consultants Gurgaon – E-Accounts & E-GST Practical Training Delivery Method:
Web / Desktop Base.
Instructor-Led Classroom Sessions.
Presentations/Demonstration/Practicals of concepts.
Handouts/Assignments/Real-time Exposure to work on Clients.
NOTE: Classes Are Also Available On Module Basis
E-Accounts & E-GST Programme Modules
E-Accounts, E-Taxation & E-GST(Goods & Services Tax) Modules
Find the E-Accounts & E-GST course details below. Classes and Course can be designed/customize as per request
Duration of Module
| Accounts & GST Course Module | Accounts & GST Course Duration |
| --- | --- |
| Module 1 – 2 | 60 – 70 (Hours) |
| Module 1 – 5 | 80 – 100 (Hours) |
Batch Timings
| Accounts & GST Course Schedule | Accounts & GST Batch Timing |
| --- | --- |
| Monday to Friday | 8:00 AM – 10:00 AM |
| Monday to Friday | 10:00 AM – 12:00 PM |
| Monday to Friday | 2:00 PM – 4:00 PM |
| Monday to Friday | 4:00 PM – 6:00 PM |
| Saturday/Sunday | 8:00 | 12:00 | 2:00 | 4:00 |
| Sunday | 8:00 AM – 10:00 AM |
| Sunday | 10:00 AM – 12:00 PM |
| Sunday | 2:00 PM – 4:00 PM |
| Sunday | 4:00 PM – 6:00 PM |
Download E-Accounts & E-GST Course Brochure