Big Data Hadoop Practical Training Course in Gurgaon/Gurugram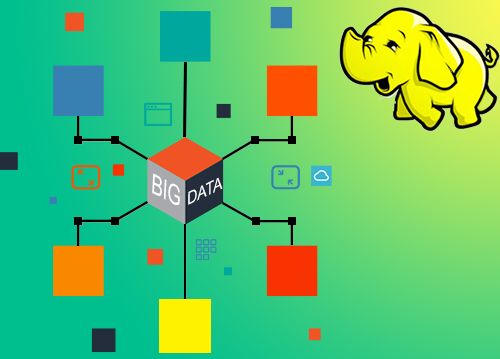 Analyse
Cloud
Storage
Database
No SQL
Tools
Big Data Hadoop Training in
Gurgaon/Gurugram
Big Data Hadoop Course in Gurgaon
Big Data Hadoop Training Course in Gurgaon
Big Data refers to the large set of data which is extremely complex in processing as compared to normal data using traditional data processing tools. It requires a great deal of effort and assistance in order to manage Big Data in an accurate manner. To perform operations such as storage, capture, data curation, Data Analysis, update, transfer, visualization and privacy, many tools are used but only few of them are capable enough to process big data such as Internet information, customer data, etc. For that Hadoop is utilized effectively which is considered as one of the most popular and highly useful technology that allows the management to process large set of data easily. Every organization comprises of a Big Data that needs to be stored, analysed and managed. They need to aggregate the data and process it in such a manner that it would give them deep insight and for that, they hire professionals with Big Data Hadoop software skills. If you are also looking to develop comprehensive Hadoop framework skills, then SLA Consultants Gurgaon brings you the Best Big Data Hadoop Training in Gurgaon/Gurugram which is designed by industry experts to meet the current requirements of the industry. It enables deep learning on big data and Hadoop modules and offers the participants with exceptional knowledge, allowing them to pursue a successful career in the field in a matter of weeks. SLA Consultants Gurgaon is known to be a leader in IT training provider for over 8 years with brilliant infrastructure, knowledgeable faculty and Innovative Big Data Hadoop Training techniques to give the learners with profound expertise in the field.
Big Data Hadoop Training Course is curated for aspiring Hadoop developers who wants to achieve industry standard and relevant expertise in Big Data and Hadoop ecosystem tools that include Hadoop Distribution File System, Map Reduce, Pig, Hive, HBase, data integration with Talend, Sqoop and Flume along with Oozie, YARN and Spark. Hadoop is known as an Apache project open source tool that helps in storing and processing Big Data in a distributed and fault tolerant manner. It uses parallel data processing using HDFS which allows the organization to perform Data Analysis. There is an extreme demand for professional big data operator in the market and companies are constantly looking for ideal candidates who have wide knowledge in above mentioned tools. With SLA Consultants Gurgaon Big data and Hadoop Training in Gurgaon/Gurugram, the participants will become a Certified Big Data Hadoop practitioner with rick in-hand practice in Hadoop development. At the end of the Big Data Hadoop Training, the candidates will gain in-depth expertise of big data and Hadoop, comprehensive knowledge of various Hadoop tools such as Hive, Pig, Oozie, etc, configure ETL tools like Talend and MapReduce, perform Data Analytics, work with Avro data formats, and much more.
There is no prerequisites required to attend the Big Data Hadoop Training in Gurgaon/Gurugram other than having a graduate degree in IT field. Although, having some knowledge in UNIX, Java and SQL would help you easily grasp the topics, but not mandatory. The Big Data Hadoop Course is targeted towards fresher college students who want to develop an industry focused skill in data analysis to secure a promising career in the field. However, working professionals such as system administrators, programmers, project managers, aspiring Hadoop developers, mainframe professionals and architects and software testers can also attend the Big Data Hadoop Training and enhance their working expertise to achieve growth and promotion in their career. Some of the major features of the course include Real-time Big Data Hadoop Practical Training sessions, highly certified and experienced trainers, project and assignments, workshops and handouts, instructor led classrooms, wide admin support and 100% Job Placement Assistance. Therefore, if you are a graduate student or someone who aspires to make it Big in the Data Analytics field, then Pursuing Big Data Hadoop practical Training from SLA would be the most appropriate option for you.
Business organizations are constantly required to process a large amount of data on a regular basis. For which they either hire new and professional candidates with relevant skills, or train their current employees in the field to make them more capable and contribute more to the organization. Thus, learning and mastering the skills of Big Data & Hadoop would certainly give you a vast amount of opportunities in the future. To know more why you should learn big data and Hadoop, please take a look at below provided points.
Big Data Hadoop is currently one of the fastest growing and most promising technologies for handling a large amount of data. It is also currently the most demanding field in the IT sector where skilled and certified professionals are required in MNCs, thus, you can make a good career ahead.
As per the reports, there will be huge shortage of big data professionals in the world by 2019 with over 2 million jobs of Hadoop professionals alone in United States. By learning Hadoop skills, you won't have to worry about job security.
The earning potential of a skilled and certified Hadoop professional is much higher as compared to other data operators. The average salary of a Hadoop developer in India is Rs. 8.5 Lakh where an experienced Hadoop manager can earn a whopping 16 lakhs.
After acquiring skills in Big Data and Hadoop, you will be able to pursue many other job opportunities such as Data Analyst, Data Scientist, project manager, Data Manager, data administrator, Hadoop developer, senior IT professional, data engineer, software developer and business intelligence professional.
There is no prior requirement such as programming knowledge or language skills that you need to have in order to learn Big Data Hadoop. You can easily start it afresh and with little effort, you can become a Hadoop professional.
These are some of the valid reasons why learning Big data and Hadoop can prove to be beneficial for your future career. To know more about the Big Data Hadoop Course or our institute, you can visit our office in Gurgaon/Gurugram.
Course Duration: 50-60 HRS with Highly Skilled Corporate Trainers-Big Data with Hadoop Training for 8 Modules-Weekdays/Weekend
SLA Consultants Gurgaon – Big Data with Hadoop Certification Training and Delivery Method:
Web / Desktop Base.
Instructor-Led Classroom Sessions.
Presentations/Demonstration/Practicals of concepts.
Handouts/Assignments/Real-time Exposure to work on Clients.
Big Data Hadoop Programme Module
Big Data Hadoop Certification Training Modules
Find the Big Data Hadoop course details below.
Duration of Module
| Big Data Hadoop Course Module | Course Duration |
| --- | --- |
| Big Data Hadoop | 50 – 60 (Hours) |
Batch Timings
| Big Data Hadoop Schedule | Timing |
| --- | --- |
| Monday to Friday | 8:00 AM – 10:00 AM |
| Monday to Friday | 10:00 AM – 12:00 PM |
| Monday to Friday | 2:00 PM – 4:00 PM |
| Monday to Friday | 4:00 PM – 6:00 PM |
| Saturday/Sunday | 8:00 | 12:00 | 2:00 | 4:00 |
| Sunday | 8:00 AM – 10:00 AM |
| Sunday | 10:00 AM – 12:00 PM |
| Sunday | 2:00 PM – 4:00 PM |
| Sunday | 4:00 PM – 6:00 PM |